Are you ready to make your own interactive grimoire full of card spreads, divinatory games, magical maps, a finger labyrinth, scrying mirror, crystal grid and more?
Make This Magical Playbook is an art-meets-oracle class that explores divination, magick, and intuitive guidance systems.
Enroll for a $55 one-time payment or 5 payments of $12/month.
We'll make 15 pages together through lessons in the classroom. Each lesson explains the concept of the page and topic, gives a video walkthrough of how to use the page, and provides the steps to make it.

---
LIST OF PAGES
Week Ahead Spread
Astro-Tarot Chart
Word Search
Pendulum Chart
Vision Board
Magical Map
Gratitude Tree
Scrying Mirror
Favorite Spread
Finger Labyrinth
Sticker Scrying Board
Magic Spinner
Crystal Grid
Altar
Magic Puzzle
*Plus there will be BONUS pages and students can submit their own unique pages!!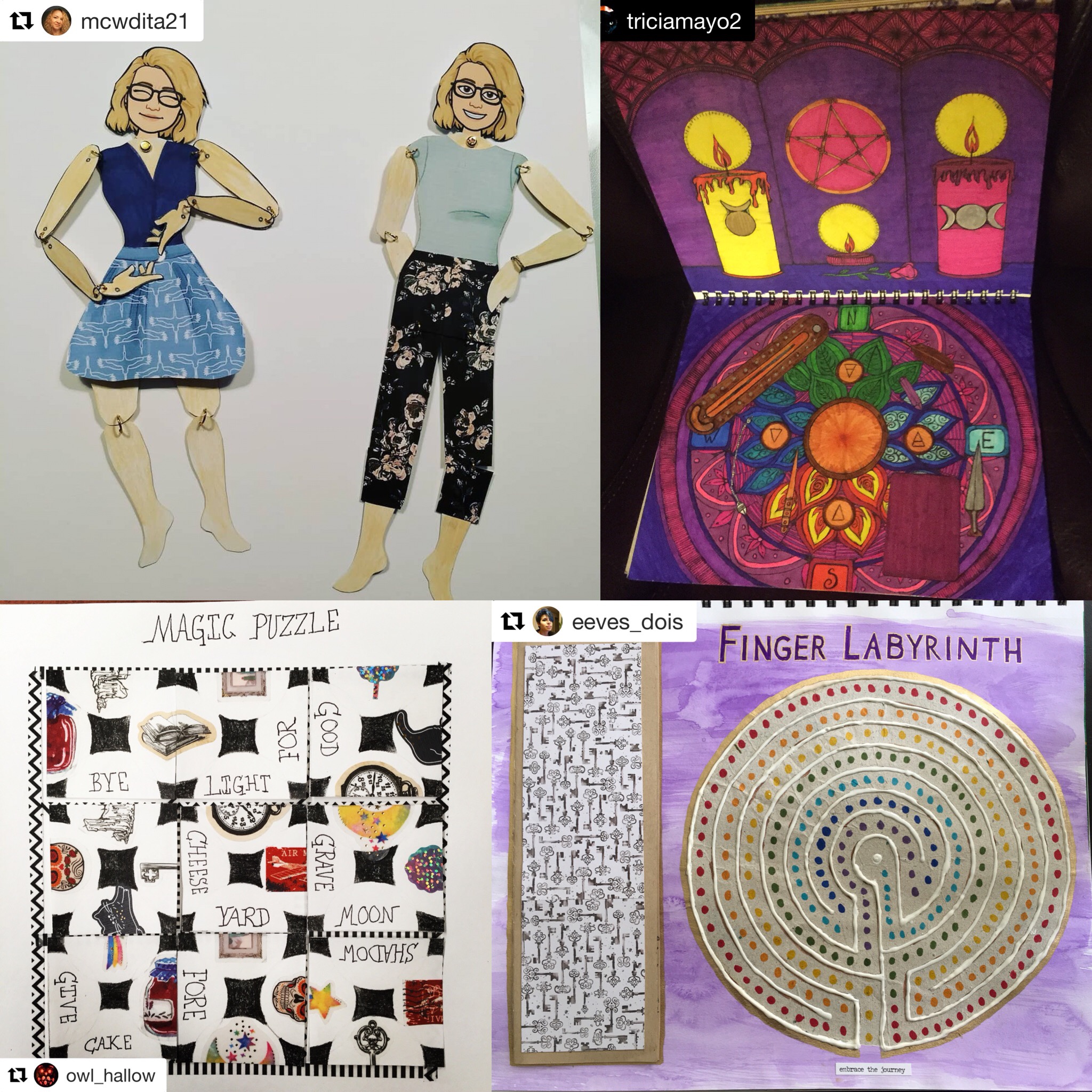 ---
WHAT YOU RECEIVE

Video tutorials
More than 15 lessons
Bonus page lessons
A private Facebook group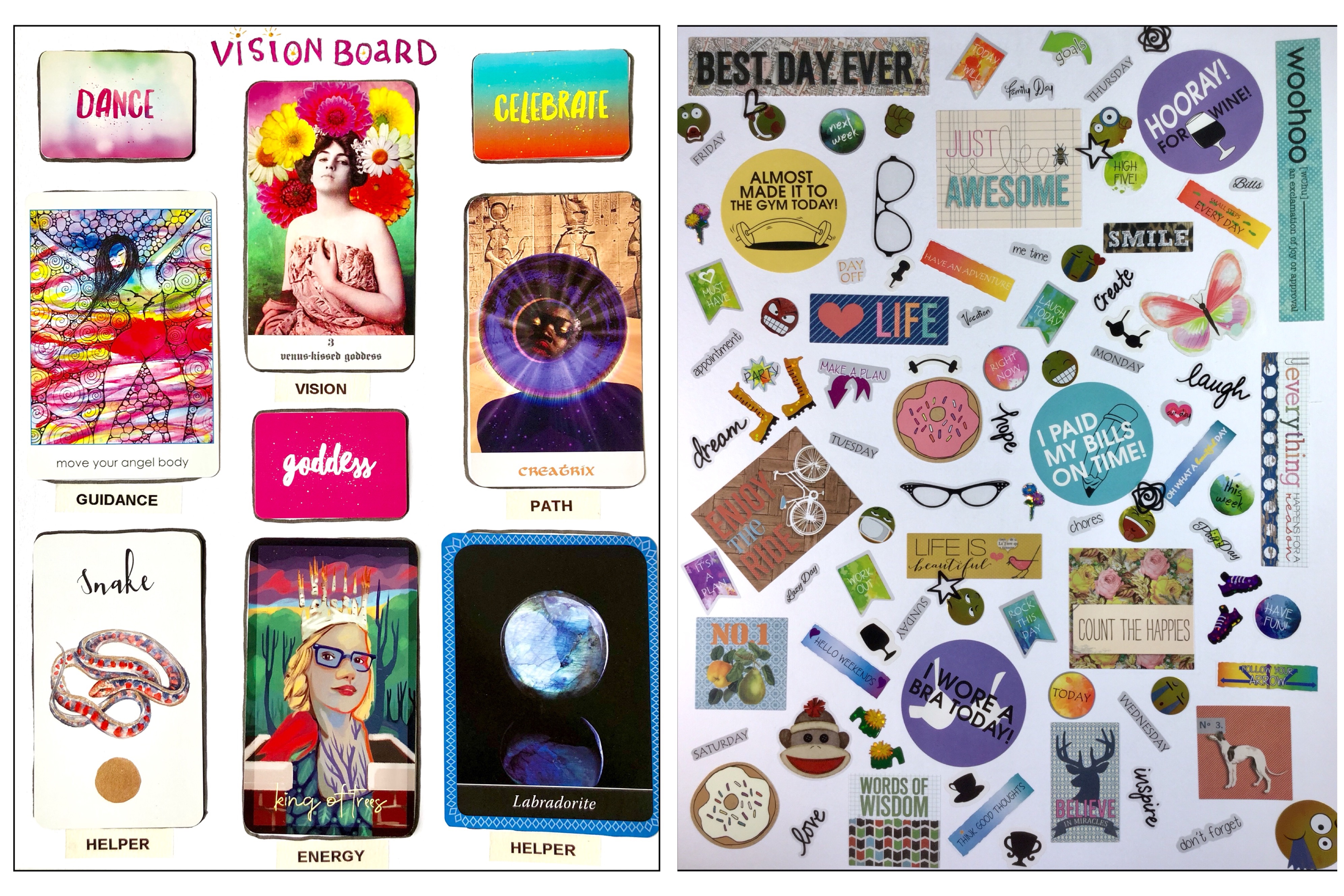 ---
WHAT YOU NEED

To complete and enjoy your Magical Playbook, you need:
art supplies: check out the supply list HERE.
divination tools: recommended tools are a set of dice, a pendulum, and tarot and/or oracle cards.
---
SEE WHAT STUDENTS ARE CREATING IN THEIR MAGICAL PLAYBOOKS!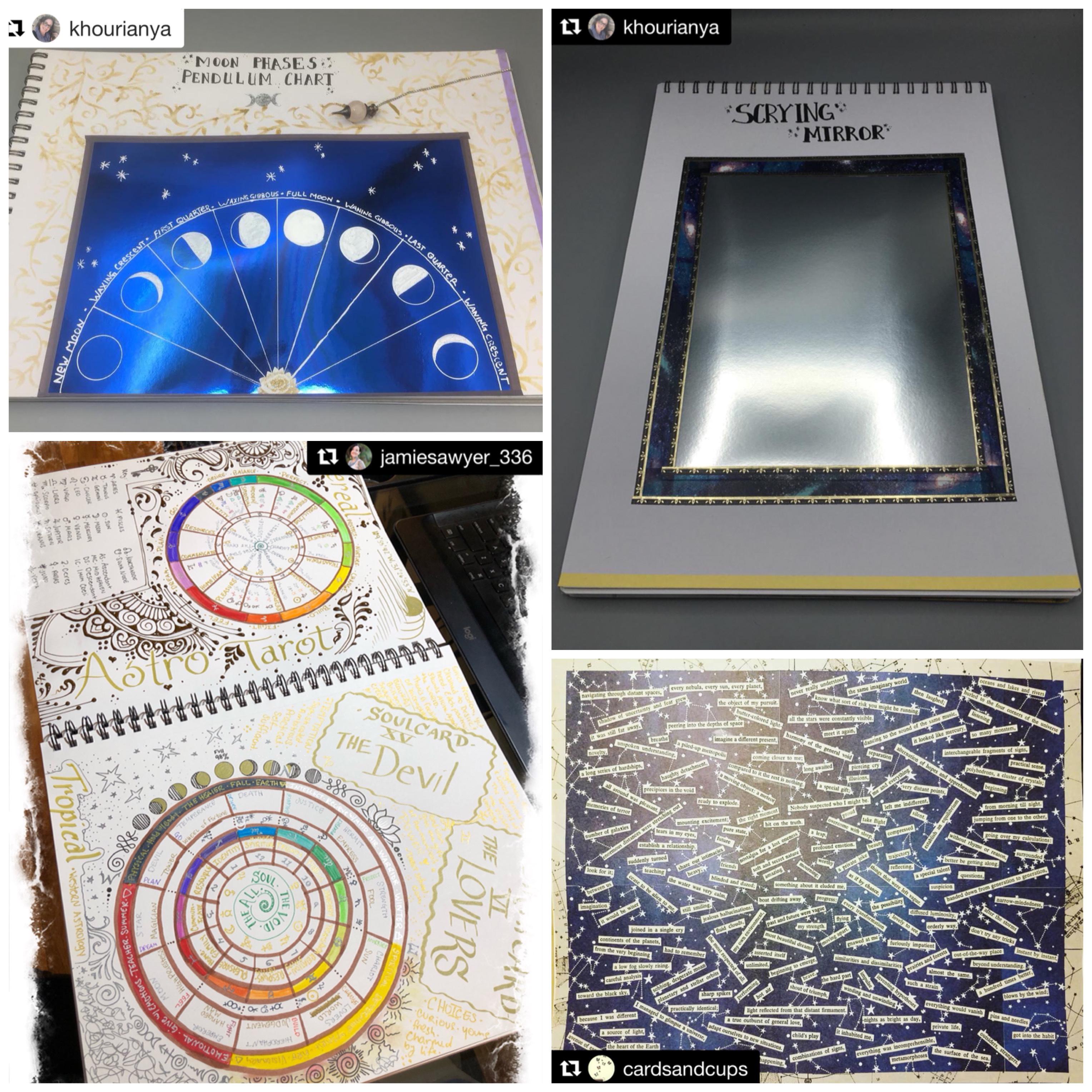 "Make This Magical Playbook is a one of a kind class. It is part divination, part creativity, part class, and part adventure! I have created many BoS from large to travel and I have never had an experience like this. Not only is the class fun and interactive, it is informative as well. The class teaches how to create each page but opens the door to explore variations of that page which is unique to each individual. Once you work through the class you will walk away with an original spiritual tool. I have had fun working through the lessons and I know I will still be working in my Magical Playbook long after I am finished with the class. Thank you, Kristen, for sharing your gift with the world."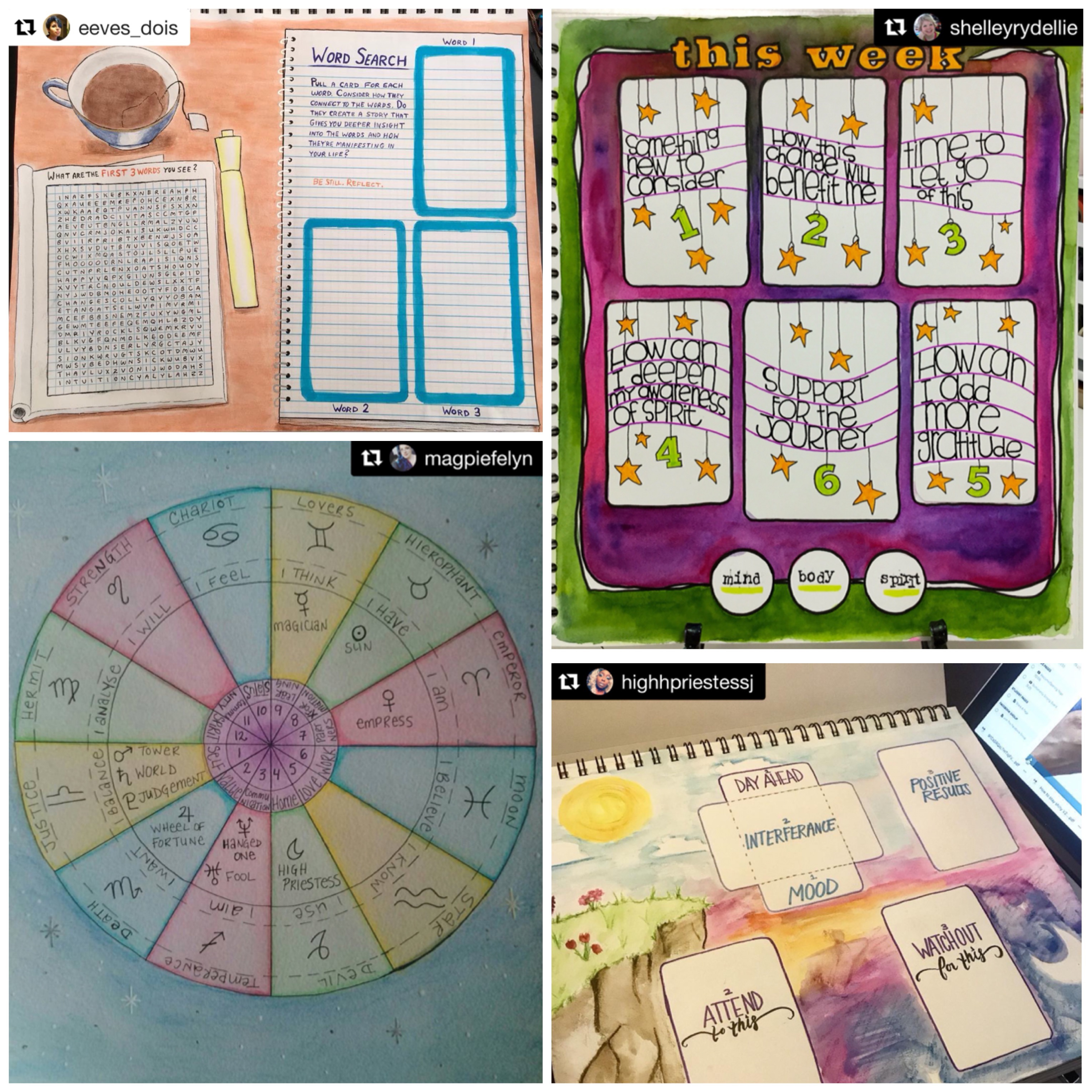 "This has been so much fun to make. I too have been drawn to grimoires and have even kept a book of shadows off and on through the years. However I haven't connected with any of them the way I have with my magical playbook... interactive grimoire. I feel being a conduit for its creation is also helping me in my own spiritual practice. I can feel the magic and energy already in it and it's not even done. I'm leaving the cover for last, as that's going to be extra special. Thank you for your guided prompts and idea platforms!"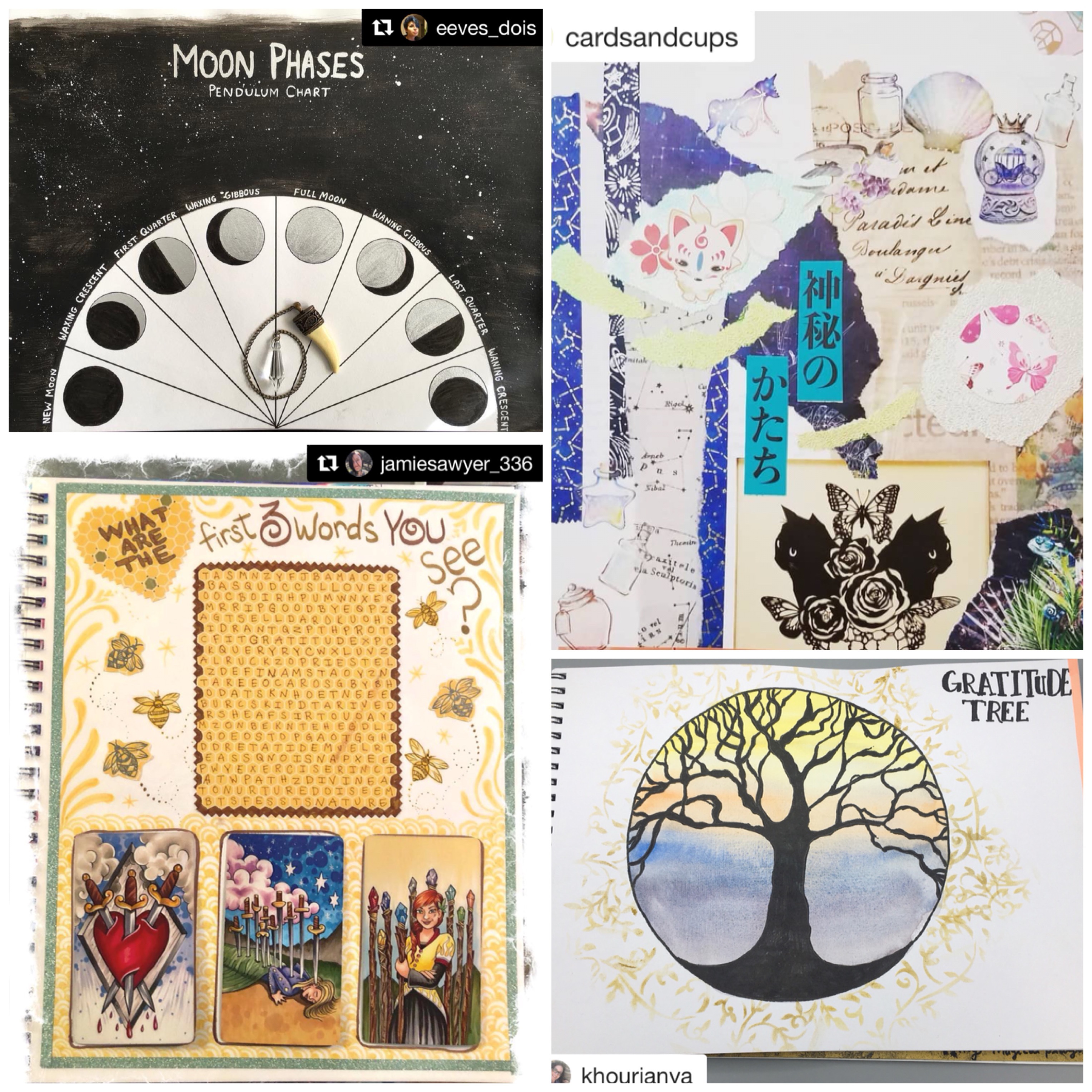 "When you take the magic of divination in all its many forms and combine it with the magic of creativity in all its many form, you get this wonderous new entity known as a Magical Playbook. This class is taught with love, passion and so much enthusiasm. It is packed full of information. It is budget friendly. It is self-paced. And best of all, as least for me, is it sparks new ideas that lead you down new roads to create even more fun and exciting pages that aren't even part of the curriculum. Each person who takes this class will come away with something personal and extra special to them, their own, one-of-a-kind Magical Playbook."

Your Instructor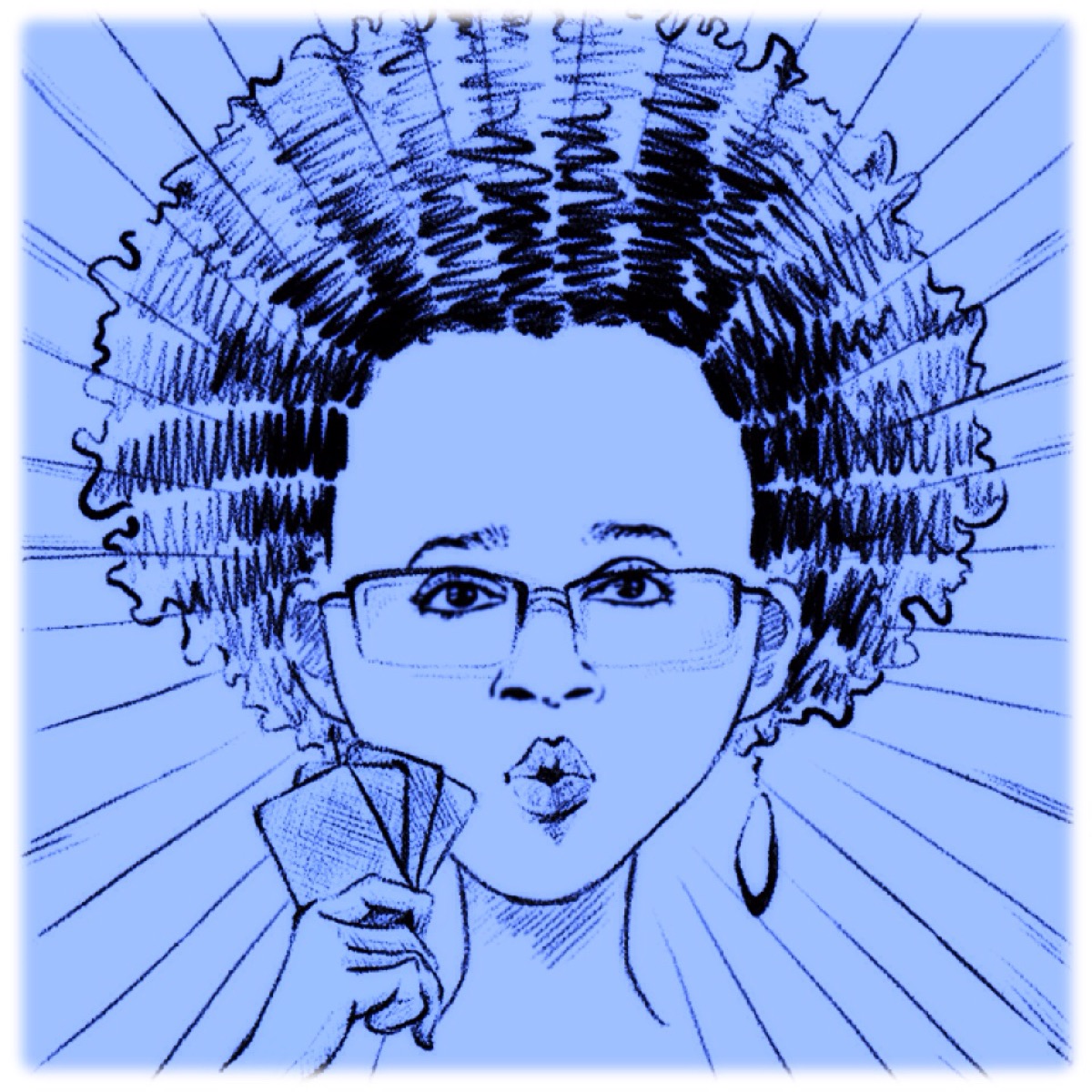 I have a lifelong passion for studying symbolism in many forms. From an early age, I've been interpreting symbols. At ten, I helped friends interpret their dreams and decode their personal symbols. At 12, I discovered handwriting analysis and all the secrets you could discover in the beauty of a simple scribble. My passion is helping people see the symbolic patterns in their life and ways to use them for problem solving and self-discovery. As a soul coaching instructor, I have led students to a better understanding of themselves through dream work, archetypes and shadow exercises.
I'm also a divination junkie who has studied a variety of divination systems including tarot, oracle cards, playing cards, dowsing, dice divination, and charmcasting. In the late 1990s, I developed my own system of reading playing cards and was pioneering cartomancy instruction on the web under the name Twelve of Hearts Cartomancy. After reading tarot and oracle cards for over 20 years and parting ways with at least 200 decks, I decided to create my own decks. To date, I've created more than 20 unique tarot and oracle decks for prediction, guidance, and self-discovery. You can SHOP FOR PRODUCTS in my Printerstudio shopspace.
Some of my divination courses and websites:
Your Future Is In The Cards: Become a Fortune Teller in 7 Days
Discover Fortune Telling With Charms: The Treasure Casting Oracle ~ Divining Magic for a New Generation
Over The Moon Oracle Cards Blog
Twelve of Hearts Divination Blog
Email: [email protected]
Frequently Asked Questions
When does the course start and finish?
Since this is a self-paced online course, you can begin it any time enrollment is open and complete the lessons at your pace.
How long do I have access to the course?
Students have "lifetime" access to any content here in the Teachable classroom. *Lifetime means the lifetime of the class. There may come a time when this class is retired or not open for enrollment but you will still have access to the material if you've already enrolled.
What happens when I sign up?
You'll get immediate access to the classroom and the lessons available. Check out the GETTING STARTED section for information on navigating the classroom and important links.
How does this class work?
There are pre-recorded lessons in the classroom that you can review at your own pace. Lessons are designed to help you learn how to make and use your Magical Playbook pages. You'll be able to share questions and readings for input in the Facebook community.
What knowledge or experience do I need to take this class?
No previous knowledge or experience is necessary, however, an interest in divination, magic and intuition is desired. Each lesson introduces you to a different intuitive guidance system so you will learn as you create.
Do I need artistic talent to make my Magical Playbook?
Definitely not! All levels of art and creativity are welcome. Each lesson provides simple ideas and methods to create the interactive pages of your Magical Playbook. You're also encouraged to create your own unique pages.
What technology do I need?
To view the course videos, you need to have a high speed internet connection. The videos are NOT downloadable, so you'll need to be able to watch them on one of your devices (computer, tablet, smart phone) as streaming downloads. There will be a few PDFs which will need to be viewable and will be downloadable.
What if I am unhappy with the course?
We certainly want you to be happy with the class. However, there are no refunds issued because once you pay, you have instant access to content, resources, and the Facebook group. Therefore, please read all the details about this class carefully. Feel free to email me with questions before you purchase if you're unsure:
[email protected]